Contacts
Vice President Lin Yi Meets with Ayenoue, Mayor of fourth District of Libreville, Gabon
Time:2019-11-14
Editor:Yang Huiwen
Resource:Department of Asian and African Affairs
Printing
Size:LargeMediumSmall
Vice president of CPAFFC Lin Yi met with Ayenoue, Mayor of forth District of Libreville, Gabon on November 14th.
Vice president Lin welcomed the visit of Ayenoue and expressed, Gabon is the important partner of China in West Africa. It's glad to see Gabon-China Friendship Association successfully reconstituted under the support of president Bongo. Delegation of CPAFFC plans to visit Gabon within this year and hopes to consolidate the cooperation with Gabon-China Friendship Association and to foster the China-Gabon municipal government exchanges.
Ayenoue expressed, he himself has visited China multiple times and has profound affection for China. Right now, he is not only mayor of forth District of Libreville, Gabon but also member of Gabon-China Friendship Association responsible for municipal government exchanges. He said, a common will shared by people is the foundation of relations of both countries. Gabon would like to have closer contact with CPAFFC, to deepen the Gabon-China people-to-people friendship as well as the municipal exchanges and to build connections for pragmatic cooperation in various fields between both sides.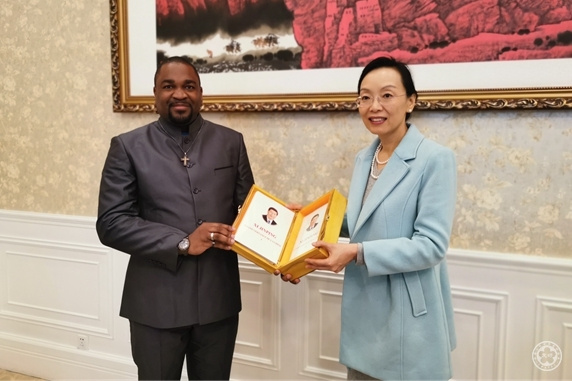 Photographed by Yang Huiwen