Local Governments Cooperation
President Li Xiaolin Meets with David Haubert, Mayor of Dublin, California, U.S., and Founder of the Sino-American Friendship City Association
Time:2019-08-26
Editor:Liu Yi
Resource:Department of American and Oceanian
Printing
Size:LargeMediumSmall
On August 26th, President Li Xiaolin met with David Haubert, Mayor of Dublin, California, U.S., and founder of the Sino-American Friendship City Association.
President Li extended a welcome to David. She said, though faced with some challenges, China-U.S. relations are the most important bilateral relations in the world, and China has never regarded the United States as an enemy. Healthy and stable China-U.S. relations are in the interests of both countries and the shared aspirations of the international community. It has been a main task of CPAFFC to advance the sub-national exchanges and friendly relations between China and the U.S.. In essence, bilateral sub-national government cooperation is mutually beneficial and win-win, and also conforms to the two peoples' common aspirations for a better life. She hoped that both sides could work together to play an active role in promoting the development of China-U.S. friendship cities and sub-national government exchanges.
David thanked President Li for meeting him. He said, despite the ups and downs of U.S.-China relations, the exchanges and cooperation between the local governments never stop. Many U.S. local governments express a strong willingness to cooperate with China in a wide range of fields, such as economy, trade, education, culture and environmental protection. The Sino-American Friendship City Association is ready to help with the match-making of friendship cities between the two countries, to enhance mutual understanding, and to strengthen bilateral communication and collaboration, so that through complementation and mutual learning, we can make positive contributions to the development of bilateral relations.
Director General Zhang Heqiang of the Department of American and Oceanian Affairs attended the meeting.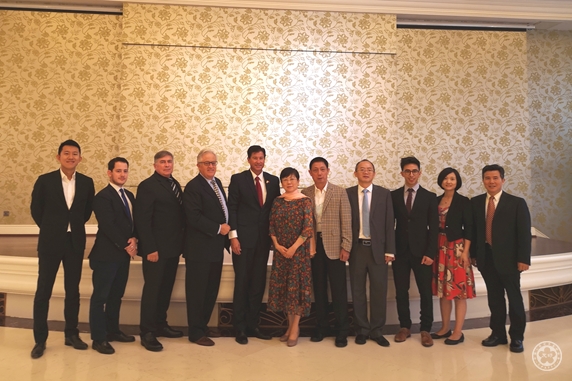 Photographed by Liu Yi