Local Governments Cooperation
President Li Xiaolin Meets with Former Chicago Mayor Richard M. Daley in Chicago
Time:2019-05-21
Editor:Zhang Heqiang
Resource:Department of American and Oceanian
Printing
Size:LargeMediumSmall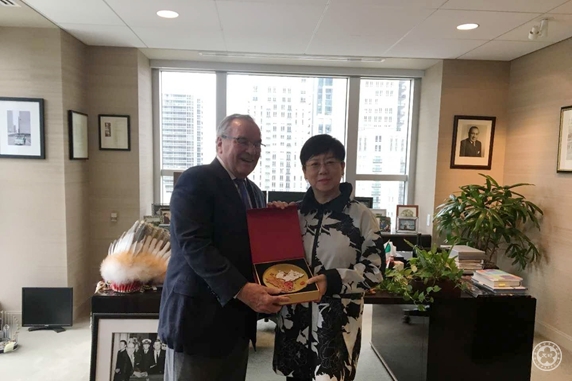 Mme. Li Xiaolin, president of the Chinese People's Association for Friendship with Foreign Countries (CPAFFC), led a delegation to visit Chicago and had a meeting with former Chicago Mayor Richard M. Daley on the afternoon of May 21st. President Li briefed Mr. Daley on the Fifth China-U.S. Governors Forum (also referred to as the U.S.-China Governors Collaboration Summit) which is to be held in Lexington, Kentucky. She said that sub-national exchanges between China and the U.S. served the long-term interests of the two peoples. She hoped that the two sides would work together to advance the mutually beneficial cooperation in various fields, so as to benefit the two peoples.
Mr. Daley welcomed President Li's visit to the United States at the difficult times of U.S.-China relations. He said that governors and mayors in the U.S. play significant roles in the U.S. politics. After he left the office, he has been continuing to promote the bilateral economic and sub-national exchanges and cooperation.
Chinese Consul General Zhao Jian to Chicago and Director General Zhang Heqiang of the Department of American and Oceanian Affairs of the CPAFFC were present at the meeting.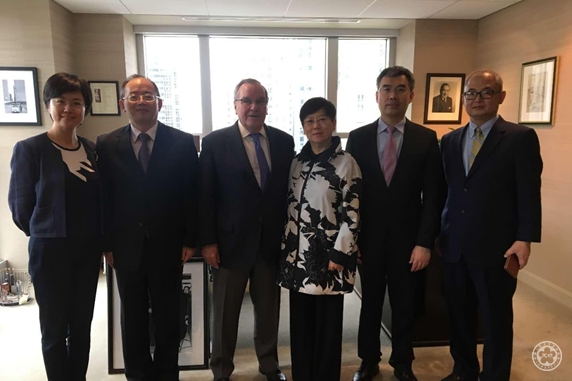 Photographed by Zhang Heqiang