Local Governments Cooperation
A Mexican Governors Delegation Visits China
Time:2017-04-01
Editor:Chen Kuanghuai
Resource:Department of American and Oceanian Affairs
Printing
Size:LargeMediumSmall
At the invitation of the Chinese People's Association for Friendship with Foreign Countries (CPAFFC), a Mexican governors delegation with over 30 members including Mr. Graco Ramírez, Governor of Morelos and Chairman of Mexico National Governors Conference (CONAGO), Mr. Francisco García, Governor of Tamaulipas, Mr. Marco Mena, Governor of Tlaxcala, Mr. Kiko Vega, Governor of Lower California and Governors of Oaxaca and Pueblaand, visited China from March 26 to April 1, 2017.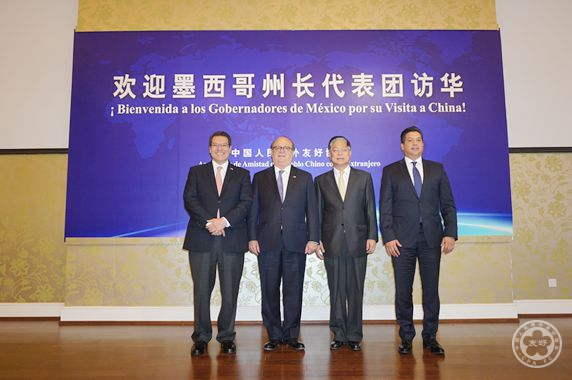 During in China, Mr. Yang Jiechi, State Councilor of State Council, Mr. Ying Yong, Mayor of Shanghai Municipal Government, Mr. Wang Ning, Executive Vice Governor of Sichuan Province, Mr. Yan Zhongqiu, Vice Chairman of Beijing Municipal Committee of the Chinese People's Political Consultative Conference, Mr. Xie Yuan, Vice President of CPAFFC, Mr. Liu Dianxun,Director-General of Investment Promotion Agency of Ministry of Commerce of China, Mr. Yang Jianrong, President of Council for the Promotion of International Trade Shanghai, Mme. Jing Ying,Vice President of Shanghai People's Association for Friendship with Foreign Countries, met with the delegation respectively.
The delegation visited enterprises including HUAWEI, China National Technical Imp.&Exp. Corp., New Hope Dairy and others. Moreover, the delegation held discussions with more than 20 Chinese institutions and enterprises, such as China Development Bank, China-LAC Fund, State Grid Corporation of China, China National Offshore Oil Corporation, CITIC Construction Co., Ltd. , COFCO Corporation, China National Pharmaceutical Group Corporation, Beijing Automotive Group Co., Ltd., China Huaneng Group, JD.COM.
Mexican side expressed that the states are willing to deepen the exchange and cooperation with Chinese side, and attract more Chinese enterprises to invest in Mexico, so as to improve financial and trade bilateral relations.