Local Governments Cooperation
President Li Leads a Delegation to Cambodia
Time:2017-05-11
Editor:Wang Bo
Resource:China International Friendship Cities Association
Printing
Size:LargeMediumSmall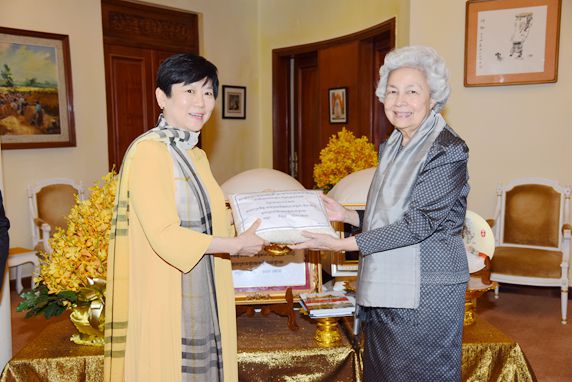 At the invitation of Cambodia Hefei Friendship Association, President Li Xiaolin of CPAFFC led a delegation to visit Cambodia from May 8th to 11th. During the stay in Cambodia, President Li respectively met with Norodom Monineath Sihanouk, Deputy Prime Minister and Minister of Interior Sar Kheng, Secretary of State, Ministry of Interior Prum Sokha, Deputy General Inspector, Ministry of Interior Iv Leang, and President Ek Sam Ol of Cambodia-China Friendship Association. She also attended the ribbon-cutting ceremony of two school buildings and one library building at Ba Phnom District of Prey Veng Province.
President Li said that China and Cambodia are good friends with all sincerity. China-Cambodia friendship becomes even firmer and thrives as time goes by as it was personally initiated and meticulously fostered by the older generations of Chinese leaders and King Father Norodom Sihanouk. CPAFFC will as always support result-oriented cooperation between our two countries at nongovernmental and local government level under the "Belt and Road" framework. Cambodian side said that the traditional friendship between China and Cambodia has been handed down from generation to generation. They appreciated the efforts made by CPAFFC in enhancing the traditional friendship and mutually beneficial cooperation between the two countries. They hoped that they would continue to strengthen our ties and promote cooperation in the future.
This visit has shown China's determination to strengthen civil and local exchanges and ties with Cambodian local governmnets and friendly organizations under the "Belt and Road" framework, and deepened the traditional friendship between China and Cambodia. The visit has reached the expected result.