Events
Reception Celebrating the 30th Anniversary of the Establishment of Diplomatic Relations between China and the Federated States of Micronesia Held in Beijing
Time:2019-09-10
Editor:Zhang Weixiao
Resource:Department of American and Oceanian
Printing
Size:LargeMediumSmall
The Chinese People's Association for Friendship with Foreign Countries held the reception celebrating the 30th Anniversary of the establishment of diplomatic relations between China and the Federated States of Micronesia in Beijing on September 10, 2019. Vice Chairman Chen Xiaoguang of the 13th National Committee of the Chinese People's Political Consultative Conference (CPPCC), Vice Minister Zheng Zeguang of Foreign Affairs, Vice President Xie Yuan of the Chinese People's Association for Friendship with Foreign Countries, Micronesia Ambassador Carlson Apis to China, Fiji Ambassador Manasa Tagicakibau to China, Tonga Ambassador Tau'aika 'Uta'atu to China, Vanuatu Ambassador Nguk Yang Dennis Nai to China, and around 100 representatives from various walks of life from China, Micronesia and some other Pacific island countries attended the reception.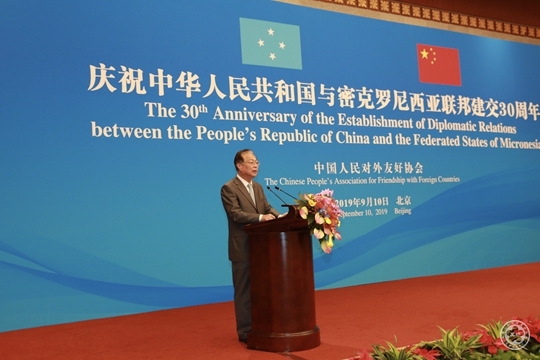 Vice President Xie Yuan noted in his speech that the relations between China and Micronesia have made substantial progress over the past 30 years. The two countries have maintained frequent high-level exchanges. Mutual exchanges and cooperation have been strengthened in various fields of trade and economy, education, culture, agriculture, infrastructure and etc. People-to-people friendly contact between two countries is also growing closer. A variety of fruitful projects carried out by the sister states/cities of the two countries have invigorated the bilateral relations. It is time to take the opportunity of the 30th anniversary to enhance mutual understanding and people's friendship, expand practical cooperation in various areas and push forward the bilateral friendly relations to a new height.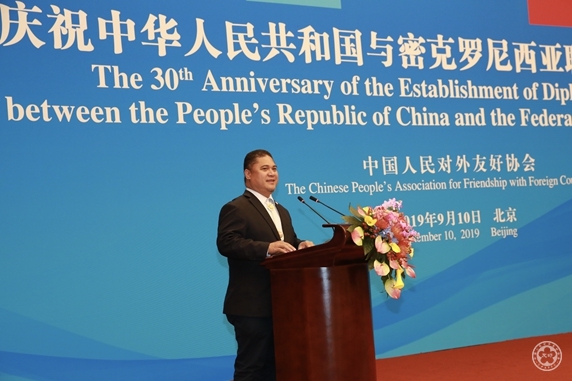 Ambassador Apis spoke highly in his remarks of the achievements of Micronesia-China relations in the past 30 years and expressed appreciation to China for its important assistance to Micronesia's economic and social development. He stated that Micronesia will firmly adhere to one-China policy, continuously deepen bilateral relations, strengthen exchanges and cooperation and make contributions to regional and world peace and prosperity.
At the reception, the artists of two countries also presented wonderful performances.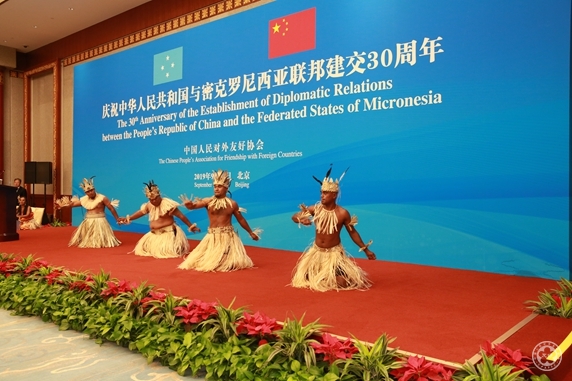 Photographed by Ren Xin