Events
Vice President Xie Yuan Attending Michigan China Week
Time:2018-05-09
Editor:Zhang Yang
Resource:Department of American and Oceanian Affairs
Printing
Size:LargeMediumSmall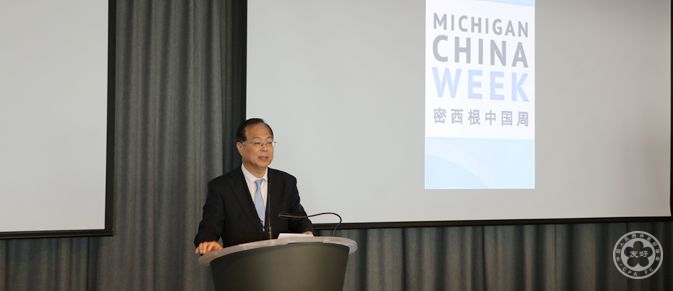 Vice President Xie Yuan led a CPAFFC delegation to attend Michigan-China Week in the U.S. from May 6 to 9. Michigan China Week was hosted by the state government of Michigan and Michigan-China Innovation Center. Around 150 government and business representatives from Guangdong, Sichuan, Hebei, Liaoning, Jilin and Heilongjiang provinces participated in the China Week, during which they visited American Center for Mobility, University of Michigan, Quicken Loans and had extensive exchanges with U.S. representatives from public and private sectors.
Governor Rick Snyder of Michigan met with Vice President Xie Yuan during the China Week. Governor Snyder expressed his warm welcome to the whole Chinese delegation attending the first-ever China Week in the history of Michigan. He attributed the rapid growth of Michigan economy in recent years largely to its fruitful cooperation with China. Michigan is now the No. 3 state attracting Chinese investment in the U.S. He hoped that the China Week could create more opportunities for the two sides to step up potential cooperation.
Vice President Xie spoke highly of the outstanding contributions made by Governor Snyder to promoting cooperation between Michigan and China in areas such as trade, investment and tourism. Michigan has become the successful example for other U.S. states in terms of cooperation with China. Xie stated that in today's era of great changes, China and the U.S. face similar development tasks, and cooperation is the only right choice for both sides. He believed that China-U.S. subnational cooperation had broad space for further growth.
During the China Week, CPAFFC, Michigan-China Innovation Center and University of Michigan jointly hosted China-Michigan Industry and Innovation Dialogue, which set up the platform for northeastern provinces of Liaoning, Jilin and Heilongjiang and the State of Michigan to share experiences in industrial transformation and upgrading as well as explore cooperation opportunities.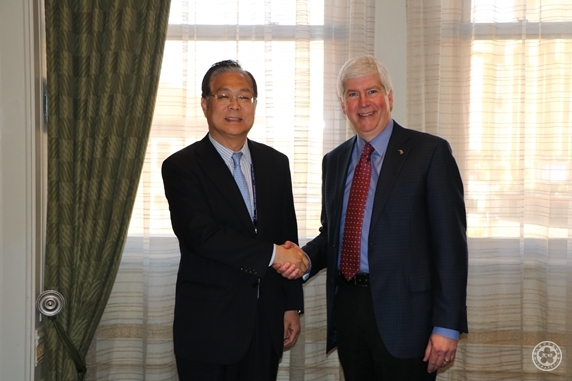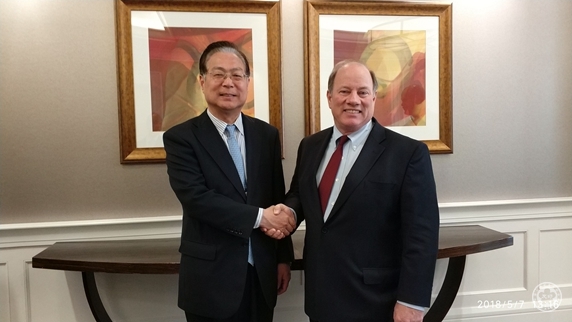 Photographed by Zhang Yang