Events
Vice President Xie Yuan Attends the 23rd USCPFA Washington Seminar on US-China Relations
Time:2018-05-06
Editor:Wang Yang
Resource:Department of American and Oceanian Affairs
Printing
Size:LargeMediumSmall
Vice President Xie Yuan attended the 23rd USCPFA Washington Seminar on US-China Relations with the theme of US-China Relations:Facing Changes on the Global Landscape from May 4 to 6. Diana Greer, President of USCPFA, Barbara Harrison, former President of USCPFA and Friendship Ambassador as well as representatives from chapters of Hawaii, Minnesota , Richmond etc also attended the seminar.
Vice President Xie delivered a keynote speech at the seminar about China's development, China-US relationship and people-to-people ties. He hoped to work with USCPFA and other US counterparts to deepen understanding and promote sound development of bilateral relations in the future.
Many experts in the US spoke at the seminar and exchanged views with the audience on the topics of China-US relationship as well as economic and trade ties.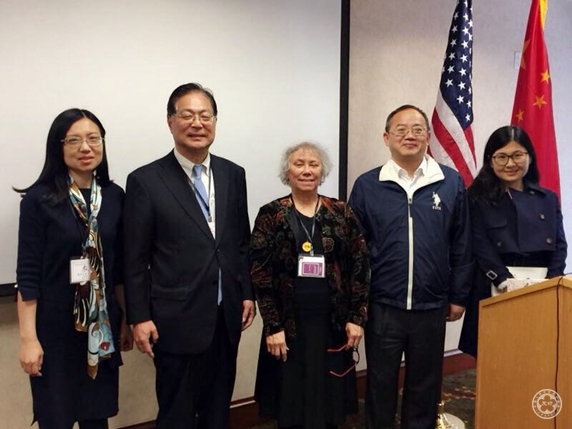 photographed by Wang Yang