Local Governments Cooperation
Vice President Xie Yuan Meets with Peru Regions Delegation
Time:2019-06-17
Editor:Zhu Rui
Resource:Department of American and Oceanian Affairs
Printing
Size:LargeMediumSmall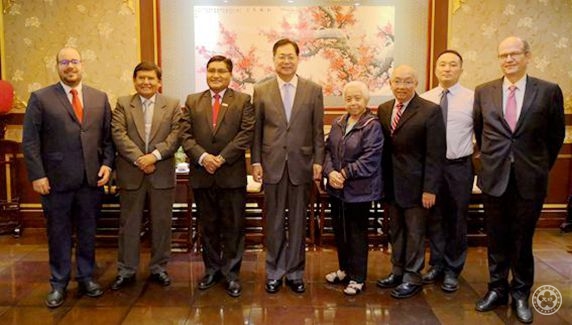 Mr. Xie Yuan, vice president of the Chinese People's Association for Friendship with Foreign Countries (CPAFFC), met with Peru Regions delegation led by Mr. Juan Tonconi Quispe, chairman of Tacna Region, Mr. Zenón Cuevas Pare, chairman of Departamento de Moquegua on June, 17th.
Vice President Xie Yuan extended warm welcome to the delegation and made an introduction about the main work of CPAFFC for people-to-people diplomacy. He also hoped that the delegation could further promote the exchanges and cooperation of the local governments between the two countries through this visiting, enhance mutual understanding and further establishing more friendship-provinces of the two countries, so as to benefit to the people.
Chairman Juan Tonconi Quispe and Chairman Zenón Cuevas Pare thanked CPAFFC for invitation and reception. They respectively introduced the region of their own and expressed that after the visiting, they would further develop exchanges with China's provinces, cities and institutions, such as Hubei province, Shanghai and Minzu University of China, so as to promote the pragmatic cooperation of the two countries in the fields of economy and trade, culture, sport and etc..
At the invitation of CPAFFC, the delegation visited China. Mr. Eduardo Yong Motta, the president of Peru-China Cultural Association (PCCA) and former minister of Ministry of Health of Peru, Mme. Teresa Joo Lamg Vda De Siu, secretary general of PCCA, accompanied with the delegation to visit China. Mr. Ji Yongjun, deputy director-general of Department of American and Oceanian Affairs of CPAFFC, Mr. Jaime Casafranca, Chargé d'Affaires a.i.of Peruvian Embassy in China, attended the meeting.
Photographed by Sun Tao