Events
U.S. Enterprises Make the Right Choice of Staying in China for Development
On May 8th, the Chinese People's Association for Friendship with Foreign Countries (CPAFFC) and the American Chamber of Commerce in China (AmCham China) convened a virtual round table. Former President of the CPAFFC and Vice President of China-U.S. People's Friendship Association Li Xiaolin and Chairman of AmCham China Gregory Gilligan chaired the conference. President of the CPAFFC Ambassador Lin Songtian, President of AmCham China Alan Beebe, and business representatives from multinational companies including BP China, ConocoPhillips, Honeywell, Intel, Mars, Merck, Cheniere Energy, ExxonMobil, Qualcomm, S&P Global China Ratings, Starbucks and Dow Chemical attended the conference.
President Lin Songtian firstly expressed thanks to the AmCham China member companies for their generous donation including fund and supplies worth over 600 million RMB to support the Chinese people fighting against COVID-19. He praised that such kind gesture demonstrated China-U.S. friendship featuring solidarity and mutual assistance, and renewed the chapter of friendly cooperation between the two peoples.
Lin Songtian said, at the beginning of this year, faced with the abrupt and horrific spread of COVID-19, President Xi Jinping, paying full respect to science and life, unswervingly upholds the people-centered philosophy which puts people's life and health first and leads the CPC as well as the Chinese government and people to win the all-out, people's war in Wuhan, Hubei and China. It took only a bit more than one month for China to contain the spread of the virus among 1.4 billion people and to effectively curb its cross-border spread. China has made tremendous sacrifice and significant contributions to contain the spread of the virus and eventually prevail over the pandemic. China, as a pacesetter, has provided a Chinese approach for the global pandemic response. China's success on containing COVID-19 proves that this pandemic can be prevented, controlled and cured as long as we respect science and life and resort to solidarity. China has been sharing prevention and control experience with the U. S. and other countries and providing comprehensive support to the people of the U. S. and the world to win the battle against COVID-19.
Lin Songtian said, COVID-19 pandemic exerted unprecedented strike to the world economy, finance, production and trade. The global economy is undergoing a severe recession. All enterprises and business communities around the world are faced with a question of common concern, where is the safe harbor for investment? Due to the pandemic, foreign ventures here in China must have encountered numerous difficulties, and yet if looking around, very few countries can resume nationwide production and normal life like China did. There's no other country in the world who enjoys better and safer life than China. Facts have proven that, you have made a right choice by investing in China. And now you have made a sensible choice by staying in China when COVID-19 is spreading globally.
Lin Songtian said, the impact of the pandemic on China's economy will be short-lived, and Chinese mainland remains the most promising destination for investment globally. China has every factor that enterprises need for investment and development. Firstly, with the strong leadership of Secretary General Xi Jinping as the core, China enjoys stable political situation and the whole society features unity among all ethnic groups and harmony among the people. The Communist Party of China and the Chinese government have always upheld economic development as the central task, stayed committed to reform and opening-up as well as peaceful development. We have kept our promises and avoided self-inflicted setbacks. Secondly, China possesses not only the most comprehensive and advanced infrastructure, but also the strongest ability on infrastructure construction and adequate financial support. Thirdly, China has a fast growing middle income population of more than 400 million people, forming the largest consumer market globally with huge rigid consumer demand. Fourthly, China boasts highly efficient and self-disciplined workforce of high quality, and products made in China enjoy comparative competitiveness globally. In addition, China plans to invest tens of trillions of RMB to vigorously promote the new infrastructure construction including 5G, big data, Internet of Things, cloud computing and artificial intelligence, which will dramatically improve social productivity and industrial production efficiency, so as to provide foreign enterprises in China with new opportunities and fresh impetus.
The representatives of the participating enterprises introduced their respective group companies, especially the current and future development of their operation in China. They said that China took the lead in containing the pandemic, which exhibited the strong leadership along with the excellent ability of organization and mobilization of the Chinese top leaders and government, as well as the bond and cohesiveness of the Chinese people. They witnessed the ability and resources of the Chinese government and its people in response to difficulties and emergencies, which provided them with stronger confidence in expanding investment and achieving growth in China.
The company representatives said, although the COVID-19 pandemic has caused many difficulties for the production and business operation, their confidence in China's development and market prospects has not changed and will not change. At present, full resumption of work and production of enterprises are on the way. Multinational companies such as Starbucks and Honeywell have recently approved or implemented new investment projects in China. Participants believed that after the pandemic, China will open up further to the world and improve business environment to create better conditions for foreign enterprises to deepen mutually beneficial cooperation and achieve win-win development.
The business representatives thanked the CPAFFC for its commitment to China-U.S. sub-national and people-to-people friendly exchanges over the years, which has created favorable conditions for the cooperation between the enterprises of the two countries. They are all full of hope for the improvement of China-U.S. relations through consultation and dialogue, and that the bilateral relations will return to the normal track. They expressed their willingness to continue to maintain close cooperative relations with the CPAFFC. Guided by the vision of "in China, for China", the enterprises will actively fulfill corporate social responsibilities, and expand cooperation with Chinese counterparts, in order to help China-U.S. relations to get back on track. Some constructive suggestions have also been raised to facilitate business development in China and promote the sound and stable development of the China-U.S. relations.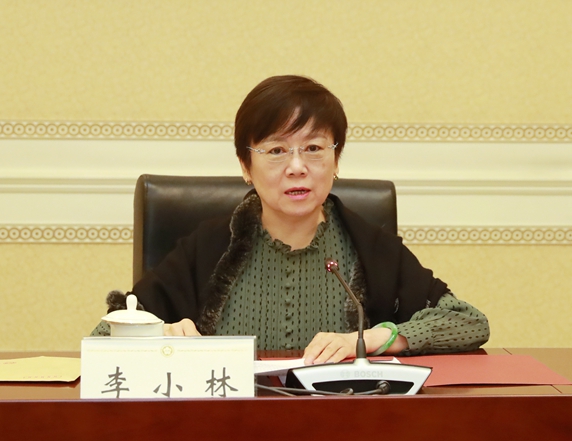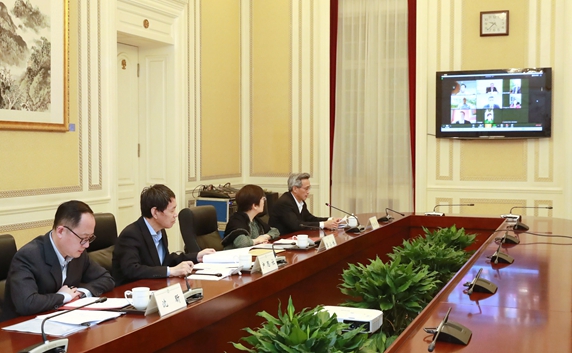 Mr. Hu Sishe, vice president of the CPAFFC together with other representatives also attended the conference.
Photographed by Ren Xin