Contacts
President Lin Songtian and Princess of Tonga Discuss about Friendship and Cooperation on Video
时间:2020-04-29
撰稿人:Liu Wei
供稿单位:Department of American & Oceanian Affairs
打印
字号:大中小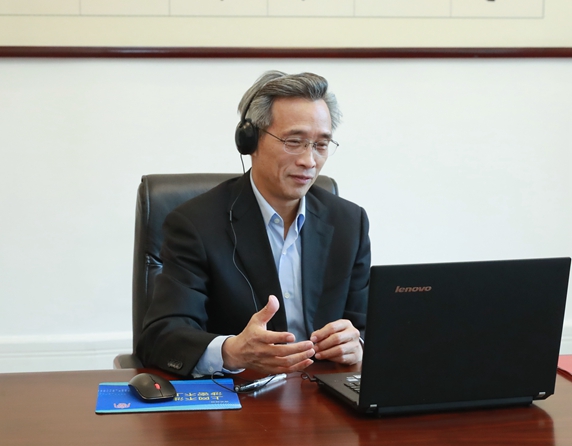 On the afternoon of April 29th, H.E. Amb. Lin Songtian, President of the Chinese People's Association for Friendship with Foreign Countries (CPAFFC), held a video meeting with TPR Her Royal Highness Pilolevu Tuita, Lifelong Patron of Pacific China Friendship Association (PCFA).
President Lin Songtian indicated that Chinese people and people in the Pacific island countries are good friends, partners and brothers. During the toughest time for China to fight against Covid-19, HRH Princess Tuita, on behalf of PCFA, sent letter and video of sympathy to CPAFFC instantly. Vanuatu China Friendship Association, PCFA's member organization, raised 460,000 Vatus to help Wuhan in fighting against the epidemic, providing confidence and power to people in China and Wuhan to win the battle. This demonstrated the unity between China and Pacific. We deeply appreciate it. Receiving drips of water when in need, and I shall return the kindness with a spring. When Covid-19 were imported to Pacific island countries, we developed so much empathy for you that we actively mobilized medical supplies from our council members, local governments and enterprises to support Pacific people. We will work closely with PCFA to assist Pacific island countries in conquering the pandemic.
HRH Princess Pilolevu Tuita congratulated H.E. Amb. Lin Songtian's election to CPAFFC's presidency. HRH pointed out that people of PIC shared brotherly friendship with Chinese people. In face of Covid-19, PIC is ready to work together with Chinese friends to flight against virus.PIC people received tangible outcomes in their cooperation with China. Looking ahead, PIC will continue their unswerving efforts to support the vision of Community of Shared Future for Mankind and Belt and Road Initiative. PIC welcomes Chinese citizens to travel and invest in their countries.
H.E. Amb. Lin Songtian said that he was born in an island in Fujian Province where endowed me with deep affection towards the ocean. The ocean industry and marine economic capacity is well developed in the coastal regions of China. Pacific is rich in oceanic resources. We are willing to actively promote the participation of Chinese local governments and enterprises in the win-win cooperation in the fields of infrastructure, human resource development, marine fishing, seafood processing and tourism in this region. We could also explore ways to conduct tripartite or multi-entity cooperation to realize complementing each other's advantages in sustaining independent self-development in this region. Thus, we could help local people with their welfare and achieve common development.
HRH Princess Tuita expressed her congratulations towards H.E. Amb. Lin Songtian's assuming the position. She regards China as her second hometown. She is most looking forward to further deepening the friendship between our two sides and promote cooperation in capacity building, ocean industry and tourism.
HRH Princess Tuita spoke highly of China's decisive and effective measures to curb the spread of Covid-19 at home and abroad. This sets a role model for the international community in conquering the virus. She looks forward to the medication and vaccine breakthrough by China to help all the nations eliminate the virus, especially those vulnerable Pacific island countries.
President Ottino said that Pacific region needed the capacity building and resource development by China, as it is rich in ocean and tourist resources. H.E. Ame. Lin spoke out our mind enabling us to see the mutual cooperation and common development between Pacific and China. We will complete the developing plan for each nation and this region for further discussion with Chinese side. We hope to further explore the priority area and key projects to push forward mutually beneficial cooperation and common development.
H. E. Amb. Lin Songtian invited HRH Princess Tuita and President Ottino to visit China in 2021 to jointly celebrate the 100th anniversary of the establishment of the Chinese Communist Party and share the joy of achieving its first Centenary Goal. HRH Princess Tuita and President Ottino were looking forward to visiting China soon.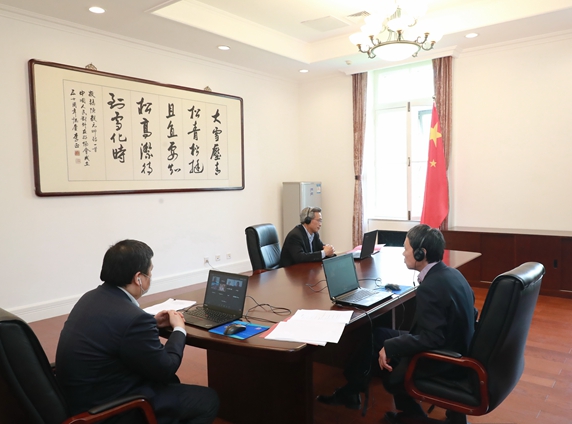 Mr. Hu Sishe, vice president of CPAFFC and Mr. Anthony Leong, PCFA Convener also attended the conference.