Events
President Lin Songtian Names 4 Keynotes at the Media Briefing
时间:2020-04-28
撰稿人:Geng Zifeng
供稿单位:General Office
打印
字号:大中小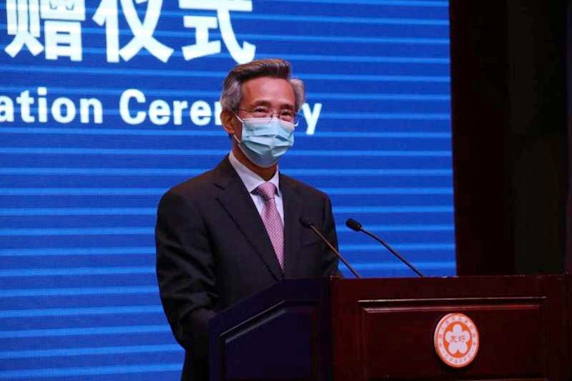 In the afternoon of April 20th, President Lin Songtian of CPAFFC held the first media briefing after his taking office, where he answered questions concerning international cooperation in fighting COVID-19 outbreak etc. There were 13 Media including News channel, movie channel of CCTV, Xinhua News Agency, People.cn, Beijing TV Station, Beijing Broadcast and Media TV Station, Beijing Daily, lwzg.net.cn, Chinese International Channel, China Daily, CGTN, Global Times, the Paper presented at the briefing and reporting about the briefing.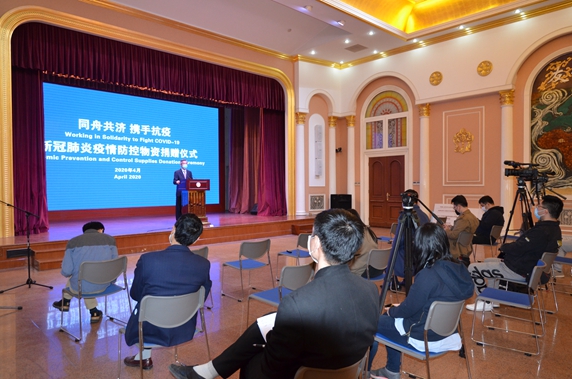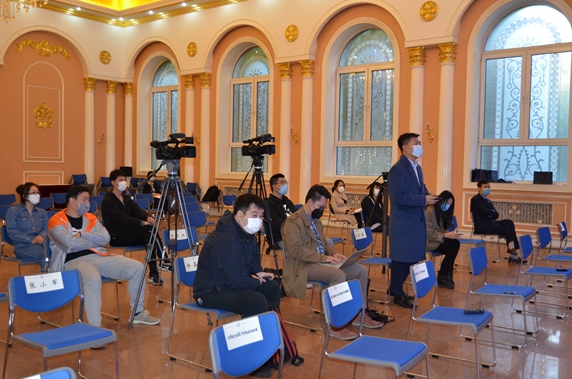 President Lin Songtian named four keynotes about global spread of COVID-19 pandemic and international cooperation fighting the coronavirus: 1. It is fortunate to be chinese nowadays; 2. It fits the fundamental and common interests of chinese people and peoples of the world to unite and cooperate as one to fight the COVID-19 outbreak; 3. It is the sole option of winning the battle against COVID-19 to unite and cooperate as one; 4. solidarity and cooperation is the common expectation of international community and peoples of different countries.
Lin said, it is fortunate to be chinese nowadays. The COVID-19 is spreading rapidly over the globe currently regardless of boundaries, races, which is a serious threat to human life and health. It is indeed a global war between mankind and nature. Confronted with the sudden outbreak, the Central Committee of CPC with Secretary General Xi Jinping as core always put the safety of people's life and health in the first place and led all people nationwide in solidarity. With a unified determination of fighting direct against the epidemic as one and the strength of whole nation, we won the victory of containment of the epidemic spread, the battle against the epidemic by mobilizing all resources and blocking the spread of the virus at all cost. Within less than two months, the spread of the virus is effectively blocked. Life and health of 1.4 billion chinese people is safeguarded.
Viewing in time line, in so many catastrophes the chinese nation have endured in the past 5000 years of our history, there was no such situation before, where an unprecedented epidemic outbreak like COVID-19 could be so effectively contained with minimum human casulties. Comparing with other parts of the world, there is no political party, government that can deploy resources, mobilise people nationwide, save lives with all strength and ensure that all infected can be quarantined and treated like Chinese Communist Party and chinese government. We won't even give up hope on a 108 year-old patient rather than being busy saving stockmarket and capital nor would we make decision of unpluging ventilators from the elder.
Lin said, it fits the fundamental and common interests of chinese people and peoples of the world to unite and cooperate as one to fight the COVID-19 outbreak. In the era of globalization, all peoples of the world are closely bound and share a common future. Facing the invisible rapid-spreading threat of coronavirus, no one can manage alone or have a schadenfreude from a safe distance. Just like Secretary General Xi Jinping said, China's development has been possible because of the world, and China has contributed to the world's development. COVID-19 outbreak is now impacting the international relations, international pattern, world economic community, global capital chain and supply chain etc unprecedentedly, whose damage has been far beyond imagination. As the world's second largest ecomony as well as the largest trading nation, China has been the biggest trading partners of over 120 countries with chinese interests and chinese citizens all over the world. World needs China just like China needs the world. Therefore, confronted with the common enemy of human being, neither standing by indifferently nor twisting the knife, China has fully shared the effective experience about taking the lead in defeating COVID-19 and has taken its productivity advantage to move positively in order to support foreign countries in the fight against the pandemic and to safeguard the human public health with practical actions.
Lin pointed out, it is the sole option of winning the battle against COVID-19 to unite and cooperate as one. China has got wide understanding and support from the International community since the epidemic outbreak. After the reversing of the global outbreak, Chinese government and chinese people uphold the idea of building a community of a shared future for mankind and move instantly to send sympathy, donate supplies to foreign countries, assemble medical teams, unselfishly share experience about fighting the virus without reservation, fully resume production and supply anti-epidemic supplies to other countries, demonstrating Chinese people's righteous outlook of caring the world for better and the sense of mission about China as a responsible major nation, which won wide recognition and praise.
Lin said, it's a shame that certain countries do not focus on organizing the fight agaist the pandemic and saving people but are busy blaming China for unproper handle of the epidemic as well as hiding facts about the outbreak. They even claim that China should be held responsible for the outbreak and ask for rediculous compensation of unreasonably huge amount. We may want to ask, how could chinese government and chinese people contain the spread of coronavirus among 1.4 billion people, if China didn't handle the epidemic properly? How would certain countries be able to evacuate their citizens at first time and withdraw air lines to China as well as upgrade the entry standards of Chinese into their borders when a lockdown was declared in Wuhan? When talking about China not sharing clear informations about the epidemic, are there scientists of any country that have absolutely clear conclusion about the cause and pathology of the virus? In such a serious situation, China has found out the effective means of blocking the virus from spreading and proposed the resolution of to locate, report, isolate and treat the infected ASAP as well as emergent measures like building temporary treatment centers etc with tremendous sacrifice. Why would certain countries all learn so eagerly from China's experience when they don't believe the success of China fighting the COVID-19?
We believe that justice lies always in the hearts of people. A objective, right answer is easy to obtain when reviewing the actions and opinions of all countries handling the epidemic. COVID-19 is a scientific question but not a political question, which can be answered not by politicians but only by scientists. A delusion of a new Boxer Indemnity is obviously a wrong play. Times changed since 1900 and chinese no longer have to endure invasion, insult and hunger.
Lin said, solidarity and cooperation is the common expectation of international community and peoples of different countries. The COVID-19 epidemic is now spreading rapidly in over 200 countries. Ego, arrogance and prejudice would look pale and weak in front of the coronavirus. Any forms of defaming, attack and stigmatization won't help to contain the epidemic but lead to more lives lost. Every responsible country and responsible government should put the safety of people's life and health at first place, mobilize every resource and adopt scientific measures to save lives at any cost.
Lin expressed, in the global operation against COVID-19, what chinese civilians and local regions have done is worth a thumb-up. People-to-People Diplomacy has advantages of considerable resources, prompt action, keeping the common touch and working out effectively etc. In the international cooperation in blocking and containment of COVID-19 epidemic, People-to-people Diplomacy has a bright future. We would like to fully play the unique role of People-to-People Diplomacy, take advantage of chinese civilians and local regions as well as productivity to support the friendly countries and friendship cities with all strength in the fight against the epidemic, work hand in hand to win the global battle of blocking the spread of COVID-19.
Lin said, International cooperation in containment and blocking of COVID-19 requires not only hard support of anti-epidemic sulpplies like face masks, protective suits, ventilators etc but also needs soft assitance like the heart-warming regards, expression of support, heart-to-heart communication as well as sharing experience of fighting the epidemic. Personalities of the cultural field could use their special position to act as friendship representatives, tell chinese stories in fighting the COVID-19 epidemic through forms of cultural products, promoting the idea of a community of a shared future for mankind as well as affinity and mutual understanding between chinese and foreign people.
When replying to question about transformation of identity, working concepts and patterns from chinese ambassador to South Africa to president of CPAFFC, Lin said, it is the responsibility and mission of a diplomat to preserve the national sovereignty, security and development interests, to safeguard the dignity and rightful interests of chinese people. As a ambassador aboard, I am a loyal warrior of the party, nation and the people. Whoever dares to stigmatize and criticize China for no reason, I must contradict his view righteously, use facts and reason to illuminate chinese policy and standpoint. Now as a civil friendship representative, I would take President Xi Jinping's Thoughts on People-to-People Diplomacy as guidence to find a suitable position and role, persist in depending on benefit to promote justice, make full use of the functions, resources of People-to-People Diplomacy, mobilize all resources and all positivities to build the bridge of sincere friendliness between chinese people and foreign people of the world. I would deepen friendship, promote cooperation, safeguard peace and discuss development together with friends of China, promote the building of a community of a shared future for mankind. I would like to be a good friend of all peoples of the world meanwhile also firmly preserve national sovereignty, security and development interests.