Local Governments Cooperation
Vice President Xie Yuan attended Commemoritive Meeting of 40 Years of International Sister Cities in Guangzhou
Time:2019-11-01
Editor:Gao Yuan
Resource:China International Friendship Cities Association
Printing
Size:LargeMediumSmall
On November. 1st, Vice President Xie Yuan led a CPAFFC delegation to attend the Commemoritive Meeting of 40 Years of International Sister Cities in Guangzhou.
This meeting is held to celebrate the 40th anniversary of Guangzhou's international sister cities(friendship cities)network. With the theme of "Hand in Hand for a Better Future", the meeting is aimed to promote multi-level, wide-ranging cooperation between Guangzhou and other cities all over the world on the platform of international friendship cities. Zhang Shuofu, member of the standing Committee of the Guangdong Provincial CPC Committee and secretary of the Guangzhou Municipal CPC Committee, Ye Zhenqin, member of the standing Committee of the Guangdong Provincial CPC Committee, and Wen Guohui, mayor of Guangzhou attended the meeting. Representitives from 35 cities of 26 countries and officials from Chinese central, provincial and municipal governments presented at the meeting.
In his keynote speech, Vice President Xie Yuan said that the major initiative put forward by President Xi Jinping to build a community with a shared future for mankind and to jointly build "Belt and Road Initiative" has contributed China's wisdom and solutions to the world to continuously promote mutually beneficial and win-win cooperation among countries, to reform and improve the global governance system, and to promote the establishment of a more just and rational international atmosphere, which has gained increasing acknowledgment in the international community. During the past 40 years, Guangzhou has established 36 friendship cities relationship with 33 countries, and has made remarkable progress in high-level visits, economic and trade cooperation, cultrual exchanges and other fields. Especially after entering the new era, Guangzhou has made extensive progress in making friends with foreign countries, and enhancing people-to-people friendship, based on Xi Jinping's diplomatic thought with Chinese characteristics in the new era. Vice President Xie Yuan suggested that the participants join hands together to achieve the healthy development of international friendship cities and make joint efforts to build a harmonious world of lasting peace and common prosperity for mankind.
During the conference, a signing ceremony of friendship cities and cooperation projects were also held.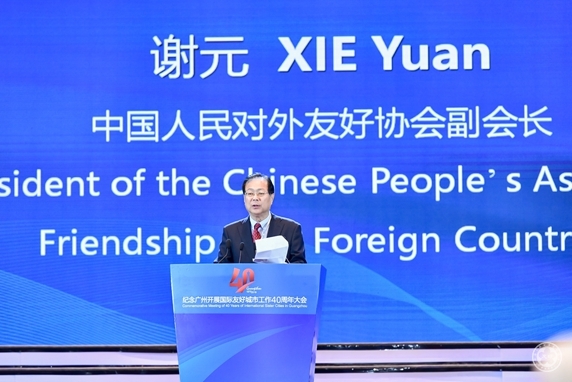 Vice President Xie Yuan making keynote speech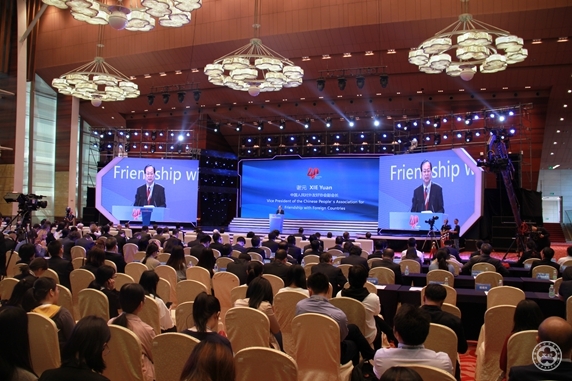 The Commemoritive Meeting of 40 Years of International Sister Cities in Guangzhou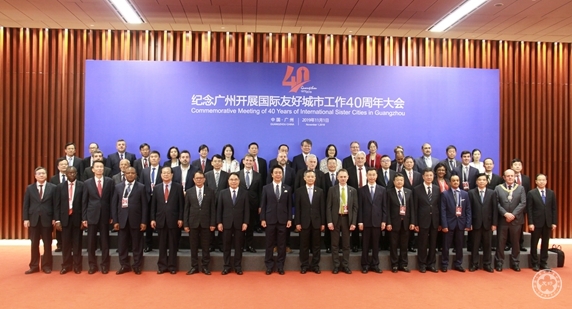 Delegates to the meeting having a photo together
Photographed by Gao Yuan